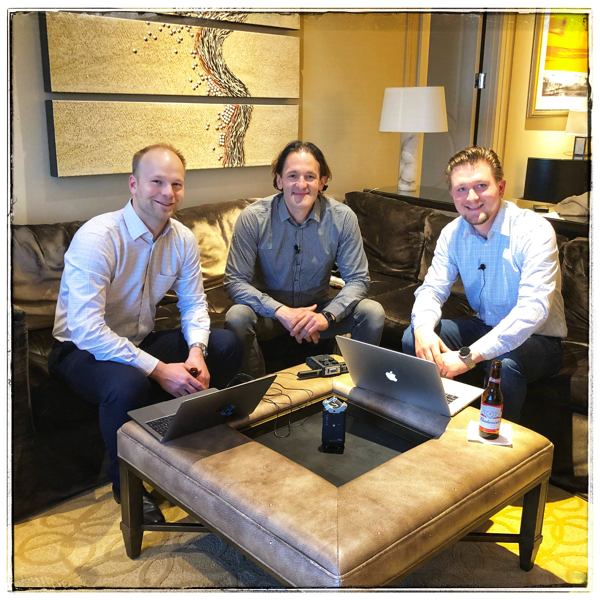 #004: How Do You Innovate in Large Companies?
Martin Wild is the Chief Innovation Officer at MediaSaturn, the largest retailer of consumer electronics in Europe. He talks to Dirk and Kelly about how they work together with startups and small teams to drive innovation in such a large company. Martin gives the example of "Saturn Express," a store which has no cash register, so customers can choose the products they like and leave - the payment is made in the background automatically.
Transcript
00:38 Dirk: How is the ShopTalk conference going for you so far?
00:40 Martin: Great, really impressive, a lot of interesting speakers and new content. Very impressive crowd of people coming here to Vegas to look at the future of retail.
1:01 Dirk: We know you very well in Europe, you're already famous in our industry. But, the US might not be as familiar. Please introduce yourself.
1:21 Martin: My name is Martin Wild. I'm the Chief Innovation Officer for MediaMarktSaturn. We are Europe's largest consumer electronics retailer. For Americans, it's very similar to Best Buy. We think we are a little more innovative and apparently cooler. We really own the European consumer electronic space. We have been a later starter but now we want to be pioneering how the future of retail could look like.
2:06 Dirk: What's interesting about you is that now you are the head of one of the largest retailer company in electronics in the world. You actually have an entrepreneurial background, so it's not that you were always in the corporate world but you actually founded your own company.
2:25 Martin: Yes, that's right. I was 18- it was an IT company. It was bootstrap from Day 1 so no venture capital. It wasn't easy- it was 1997. In 2002, I launched an online shop. I started to sell consumer electronics in a different way. This company grew from 2002-2008 to 18 million when I sold it, fully focused on being bootstrap. After selling the company, I lived in Florida for a while and joined MediaMarktSaturn. I still am an entrepreneur because as a Chief Innovation Officer I get to work on creating innovations to drive the future of retailer. I've always been someone who builds new stuff in new ways.
3:30 Kelly: How would you define a Chief Innovation Officer compared to a Chief Digital Officer or Chief Information Officer? How do you uniquely define your role?
3:43 Martin: I've been Chief Digital Officer since last year and only Chief Innovation Officer since the beginning of the year. I think digital is very important and everyone needs to get digital in order to enhance customer experiences. If you don't keep innovating you will be driven out of the marketplace. For me, that's why Chief innovation is so important in all areas of the company. Innovation isn't something you can only do from a central role. A CIO is someone who is living the innovation and driving the innovation projects to the next level and make sure that the company is following is fast as possible. If you don't keep innovating, your company will die eventually.
5:02 Dirk: As you know, both sides of the table, from being a starting founder that you grew big to a large company like MediaMarktSaturn? How many employees does MediaMarktSaturn have?
5:24 Martin: We have 65,000 with a total of 22 billion in 15 countries over Europe.
5:35 Dirk: Normally huge companies are moving slower, how do you adapt your agility and speed to keep your company moving fast?
5:45 Martin: MediaMarktSaturn was disrupting existing players since the beginning. We were once very agile and got a little slower as we got bigger. We always had this entrepreneurial spirit with the freedom and power to make changes. I have a lot of freedom: own budgets and teams. We try to take this new experience to new countries and implement there. Not a fast as start up, but we always maintain the entrepreneurial spirit. We sell technology, which is the driver for change. Our people are more open to change which helps us.
7:14 Kelly: How do you make it safe for employees to innovate and fail? To take risks, try new things and innovate.
7:32 Martin: We try to put into the DNA of the company to accept failure, talk about it and don't hide it. That's what, on a management level, we have to live, and we can only practice what we preach. We encourage our employees to do the same.
8:48 Dirk: You're one of the companies, especially in Germany, that does exceptional work when it comes to bringing a large corporation together with a start up. Tell us a little bit about retail tech hub.
9:24 Martin: So as you learned, I'm a big fan of start ups. Disruption comes from start ups because they don't see the problems large corporations see. That's the reason why we work with them very closely. Retail tech hub is a open innovation platform that we launched. We brought them in for the American spirit. We help startups with their pilot to see if their ideas will work. We don't give them money, if they need money we connect them to venture capital, but access to our systems or departments that they want to work in. The idea is to look for the most interesting startups for retail space. We want to really take a look at retail from a broad perspective and include all verticals. That's why we launched as an open innovation platform. Together we want to have this platform to work on pilots with cool and interesting startups to learn more efficiently. We want to help the startups with and help they need.
12:35 Dirk: The platform is open, so everyone can come in and join?
12:50 Martin: Absolutely, agree. We are in talks with many retailers all across Europe to build the innovation platform for retailers. We are very open to all kinds of retailers because I really think it's about building the future of retail together. We need to do it together because the technology space is so big. That's the reason why we brought up the Retail Tech Hub idea.
14:13 Kelly: Do participants in this incubation hub, are they forced to expose their data and functionality through API's? How does that work- do you have any mandates?
14:30 Martin: The only thing we ask from our partners is that they promise to do a pilot with startups, at least one per batch and share the experience. Not all of them are experienced working with startups, that's the smallest entrance we have. We don't share API or data right now, just the common to work on a new experience.
15:29 Dirk: Let's shift to a new topic that you've launched. Tell us a little more about SaturnExpress.
15:51 Martin: 11 days ago we launched. First cahier less consumer electronics store in Innsbruck, Austria. We built this with a start up and it totally worked out. People come into the stroe, download the app, pay, read the article and leave. We really like the concept of being fast and we opened it for the public immediately.
17:11 Dirk: Let's talk a little bit about the motivation. What is your opinion on the problem you would like to solve with customers having to wait in line?
17:45 Martin: We tried to use digitalization for more efficient business operations and better consumer experience. There are people that focus on helping consumers find the right product or install the app. The check out process is not something needed but has been here for a long time. It doesn't need to be here 10 years from now. So we took this approach where everyone can enter and take a look, but to buy you need the app. Nobody wants to wait in line at a cash register. The motivation was to try to see how the future of retail could look like. We are very happy so far.
20:50 Dirk: Are there any numbers or outcomes that you can share even though it's early?
20:51 Martin: It feels funny to just scan and leave without going through a cashier. It's different for a lot of people. Some people have only come to the store to try this new buying experience. We have made sales every day. It's a very convenient location and we are happy with the outcome so far. In a month, maybe we can share some more numbers.
21:46 Kelly: Are you seeing any theft?
21:50: Martin: No, not yet. We use RFID technology for each products security. The tag will sound the alarm upon leaving if the customer hasn't paid by using the app.
22:43: Dirk: Can you share insights on when the idea came up and how you got there?
23:35 Martin: We thought about this cashier less store about a year ago. Back then we didn't proceed because of the cost, time, and internal process. It wasn't until we found MishiPay and we really liked their idea. They came to Retail Tech Hub for our first meeting in November and by March we went live. That's the perfect example how working with a startup can be much faster and you don't have to reinvent the wheel.
25:13 Kelly: You have an innovation vertical group within your org. How much do you think that contributed to your time to market?
25:35 Martin: We have a company that's called MediaMarktSaturn Next. that is a small team building the bridge between startup and corp world to make sure a project is being brought off fast. As soon as we like an idea, we find an internal partner that helps make the process faster. You need a separate unit that is able to execute and link to the internal organization so you can scale.
27:29 Dirk: It seems to work out very well for you because there are a lot of things that you can try out. I know that you're working with robots in Last Mile Delivery and In Store.
27:40 Martin: Paul is one of the first fully autonomous consumer electronics robots. He greets the customers and will bring them to any product in the store. This way the employee can focus on giving the customer a great experience.
28:27 Dirk: This is something that any DIY company can embrace. It take a lot of time.
28:38: Martin: We did this with Paul because we realized that we always try to bring the best of both world together. In the offline world, it's harder to find a product faster. We thought about different ways that we can help the consumer. We also have an app that will help, and a virtual assistant. We think this is important for consumers to have a fast way to a product.
29:45 Kelly: Let's look more at your organization. In a traditional IT org, it's typically sorted by job functions. It tends to be very horizontally tiered. How is your organization structured?
30:11 Martin: We have a few people that focus on innovation research. They look for new technologies and see how they would impact our business and impact customer experience. They decide when the right time to do the piloting is, and which is the right startup to partner with. There is a project team to facilitate this interaction. They focus on connecting the startup technology with the existing company. We have some machine learning and voice that work to see how we can make things easier. Also, the Retail Tech Hub team. If we want to do something, we always look for a startup. That's my way to make it fast and efficient.
32:31 Kelly: I love that model because it allows small vertical, cross functional teams to innovate really quickly without any tech data or organizational overhead.
32:43 Martin: We try to make it very lean and cross functional by connecting the right people to make it work. We all know that retail is changing but no one can predict the future so we work on many areas and hope to be in the right place at the right time.
33:18 Dirk: It's also better risk management. Large corporations say they like startups but can't work with them because of too much risk but actually it's the opposite. This proves that's the right approach because you can try out many things on a very lean model and adapt quickly.
33:44 Martin: We learned that not all projects work out and now we can do many things at the same time to see what works. They all help us to get better. The things that work we are able to scale immediately.
34:41 Kelly: I see a lot of good technical people who are happy doing technical development work and end up going into management tracks because that's the only way to get ahead in the company. Do you have a unique way of dealing with this?
35:21 Martin: We are working on this right now because we are on the midst of a big technology transformation. In the past, we didn't have our own developers. We had an IT dept that connected externally to developers. Now we are trying to hire internal developers and really look for people who have fun in building the future of retail. They have passion to make changes in the world. We want to make it worth while for them to stay in the technical area or where they want to be but this is still something we are working on.
36:28 Dirk: As we get to the end of the recording, thank you for all of your contributions and insights. My last question is what are the main new innovations that you are working on for 2018?
36:50 Martin: Everyone can look at the startups in Retail Tech Hub. We just announced the second batch this week and there are a lot of really cool technologies there. We will work on augmented reality that can connect the dots between off and online. Some of the things we will do, I don't even know yet as projects can happen so quickly. We hope that many people will learn about what is possible in the retail space. We will have a lot of cool projects.
37:57 Kelly: Where can people learn more about Retail Tech Hub?
38:00 Martin: retailtechhub.com or the Facebook page. We always talk about events, meetups and demo days. All professionals are welcome. Even if you're a mentor, retailer or part of a startup, we are keen to meet you.