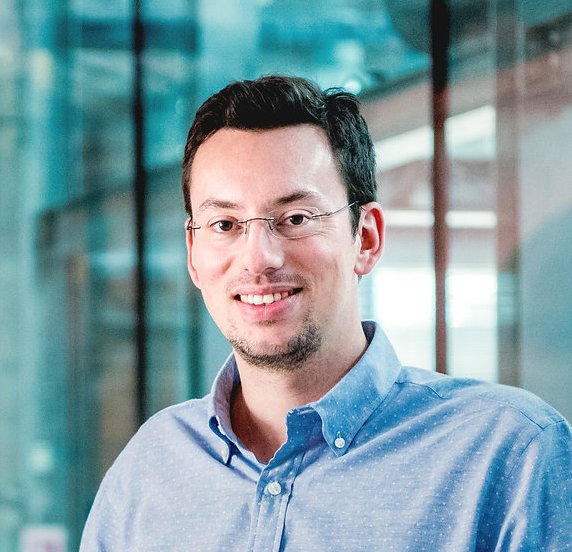 #008: Digitizing Brick and Mortar Retail
In this episode, Alexander Ringsdorff, Vice President of Corporate Development at NewStore, Inc. talks about the new startup from Intershop and Demandware founder Stephan Schambach and how they support physical retail with their mobile apps.
Transcript
00:15Kelly: Welcome to another episode of Commerce Tomorrow. I'm joined today by my co-host, Dirk as well as our guest, Alex Ringsdorff who is VP of Corporate Development at Newstore. Alex, do you want to get started by giving our listeners a little background on who you are and where you come from?
00:40 Alex: I'm 33, originally from Hamburg, Germany. I'm currently living in Boston. I've been in eCommerce since 2001. I started right out of school getting permission at 16 by the court in Germany to start a business early on as an entrepreneur. It grew into an SI agency in Germany. We had about 40 people running brands across Europe. I then had about a year where I joined a larger check out company. After that, I felt the need to be back at a startup and founded a company called Couch Commerce. Our focus was a mobile eCommerce platform, then we started New Store and that's where I am today.
3:00 Dirk: Thanks for that summary, Alex. To start from the beginning, you had to get permissions from the court when you were 16 to start your business. I assume that you were considered fully responsible to make signatures. What did your parents say about you being fully responsible for your own company?
3:22 Alex: At 13-14, I actually started sending out invoices for web development I was doing with my father early on. At 16, my father said we should look into making a company through me. So, my parents were quite supportive. In Germany, you have to take both of your parents to court and you have to promise that your work won't impact your school.
4:10 Dirk: What was the reality?
4:16 Alex: I think it had huge implications. I was less interested in school and more into physics and math. I still finished school and afterwards was very happy I did. My parents both have their own businesses so they're very entrepreneurial and were supportive of my work from the beginning.
5:00 Dirk: At the end everything worked out. After you sold the agency, it sounds like it was the right decision.
5:10 Alex:Absolutely, I would say even earlier we were sure it was a good way to go. For me, you can always go to university. If you have the opportunity to work with great people in an entrepreneurial way, that was an opportunity I didn't want to miss.
5:34 Kelly: Tell us a little bit more about Couch Commerce. It would be worthwhile to explain a little more. I think it's a really good story. Also, Stephan Schambach, who you sold the business to. Tell us about him.
5:57 Alex: Basically, the start of Couch Commerce actually involves my mother. In 2011, I bought an iPad for her which became her primary computer. One year after the iPad was on the market, they still didn't have optimized websites or eCommerce shops. I saw how frustrated she was online shopping. At that point, we saw that there was already 5% mobile traffic for mobile so we thought that this would get a lot of traction. When we started the team around that, we said let's build a product that works better for touch interfaces. Paypal actually just started using the term "Couch Commerce" as well and suddenly we had some attention. We did some bootstrapping and angel investments to start the company. We stabilized the company through working with larger companies. That's when I was introduced to Stephan. I wanted to get him involved as an investor. He loved what we did but had an idea to extend into retail much further. He asked if we would be willing to join forces. Now known as New Store!
10:34 Dirk: What would you say is the main vision that Stephan has for New Store? Doing this for the 3rd time after his great success with Demandware being acquired by Salesforce, he must really have a passion for mobile commerce.
11:14 Alex: I have to say that this is what I was most curious about when he proposed building a new company. I was thinking: why do it again, right? He's so passionate about it. He's so eager to do it again and show everybody how retail should be in the future. Since starting, he has had a laser focus on New Store. It's a unique situation for me being able to work with him. Quite a ride so far.
12:48 Kelly: You need that passion. Before we get into New Store, could you explain a little about your role to our listeners?
13:08 Alex: I'm part of the Management team at New Store. We all have experience of IPO-ing companies. I'm one who is looking into developing market strategies and positioning the companies to achieve long term growth through strategic alliances. This includes technology partnerships, also investor relationships and possibly acquiring smaller companies on a partnership level.
14:38 Kelly: It's interesting because you have a technical background but you were able to step back and see how all of the pieces fit together. So it's an interesting role.
14:57 Alex: I also have an app that I was running product marketing when we started the company. When I moved into the corporate development role, you can do more things than just working in one department. There are also a lot of technical aspects.
15:39 Kelly: You've had a long time now of looking at the market, you've been at this since the 90's. How has commerce changed over the course of your career?
15:52 Alex: I have to say it's changed a lot. The first solutions we did we basically ran PHP Myscale frontend in 2005-2006. From there, we moved into more standardized software and saw the big players in the market. The excitement of Magento and the shift to SaaS. Always discussing what is the best for the future: cloud vs. open source. The importance of cloud became more common knowledge that everything should run in the cloud. This expands into the store and other areas. This is something that is changing dramatically right now.
18:13 Dirk: This is a good chance to talk more about New Store. Alex, maybe you can give us a quick summary of what you are doing and what you aren't doing.
18:51 Alex: Happy to. From the marketing side, we make it easy for retailers to provide the store experience similar to Apple with the shopping convenience of Amazon. This is a lot. We have learned over the years to better position the core of our offering. We have built a SaaS platform that delivers omnichannel as a cloud. The core components are OMS, and the transaction engine. Behind the scenes we have the OMS that's integrated into the system landscape. What people see in New Store are two apps facing the associates. It's a lot but this is the core of the platform and we are partnering around that.
22:21 Dirk: I see a huge demand for that especially as the retail experience is quite poor. There is a lot that needs to be improved. Why don't large brands and retailers develop the app on top of their existing platform? And, how do they benefit from using New Store?
23:11 Alex: This is a typical path for problem solving consumer demands today. If for example you want to implement an endless aisle, you can build a small app. There are point solutions out there that do just that. Some people have done this very successfully. The hard part is having the inventory availability also mixed in as well as the fulfillment methods. This can become quite a bit project. You can invest millions into doing this like Nordstrom or Apple. For the majority of brands, a SaaS model is more interesting when it comes to these use cases.
25:42 Kelly: I think that makes a lot of sense. Can you define what clienteling is?
25:58 Alex: It covers a broad spectrum of functionality. The basic functionality of clienteling is a customer profile, purchase history and actionable insights. There are much deeper functionality here also. We partner with companies that are really good at it. This is, for example, everything around appointment management, recommendations, outreach, templates, campaigning. All of these things that lead towards a sale around customer profiles. Some players are very specialized in appointment management, this all falls under clienteling for them.
29:15 Dirk: Where do you see the market that you are in with New Store? Also, where are the challenges?
30:06 Alex: We are definitely selling to early adaptors still. There are two categories. The companies that are successfully growing or born digital (eCommerce only) that realize they need to open stores and sell across channels. These companies have a strong online sales already and don't want to deploy multiple IT systems to manage processes. On the other hand, the large brands like Adidas, they always look at these fast growing B2C brands and want to be like them when it comes to being engaged with the consumer. They are typically trapped a little bit where they try to solve problems step by step across separate departments.
33:30 Kelly: Related to that, I as a consumer, constantly disappointed with the retail experience. It seems there might be a great app or .com experience but doesn't translate into the store. How is it that retail is so resistant to changing this? Why don't retailers spend their money to get past this?
34:32 Alex: That's a great question. I totally agree. Typically today, even for the best brands, they don't know what I've spent with them. The customer expectation is huge and they expect the treatment they deserve. This has been slower to adopt. One reason could be to the hardware. The update and improvement cycle is so slow, rarely touched and updated. Where is really changes now, is devices within the retail environment. They need something that is easier to use. When the hardware is improved, there are many benefits to easily introduce new applications and technologies. This is what we are seeing slowly happening and retailers becoming more open to introducing these devices into the retail landscape.
37:02 Dirk: Talking about technology, can you share with us how you are developing at New Store? Please share some insights to the architecture of the products.
37:24 Alex: Sure, for context we are about 140 people in total. Out of that, 100 are R&D focused. We have a big development team in Berlin and across Germany. As well as a small team here in Boston. I'd say we have a pretty modern stack with an agile approach with 2 week sprints. They work fairly independently towards product goals. We run on AWS but we also use Python and React native. You find a little bit of all modern technologies across the platform.
39:24 Kelly: That sounds like a very modern stack! Glad to hear. Final question from me. What are some interesting tech trends you're seeing out there with brands and retailers?
39:50 Alex: I was at Shop Talk where I spent hours listening to start up pitches. What stood out for me is that everyone I talked to were excited to experiment with these startups. I see that voice is something that everyone talks about but the deployment is limited. Areas I see that excite me most is around voice. I think this is very important to the future and worth watching. As well as AR, not so much VR. Maybe for gaming and next generation of devices. You can already see from Apple that they're working towards a different type of device. This is going to play a huge role. Playing around is pretty amazing. I'm pretty excited about these cool things.
44:00 Dirk: I think we will see a lot of exciting changes in the coming years that will change the way we shop. These changes are much needed. Alex, thank you for sharing your insights from New Store and how you're revolutionizing the POS. Thank you everyone!